Author: Janet Blaser
Publish date: 2023-03-18 20:17:10
mexiconewsdaily.com

Read all
The longer you live in Mexico, the more things become a part of your life that you'd never heard of before, or that previously had been relegated to the category of "exotic specialties." 
Such is the case for me with Oaxaca cheese. Now I almost always have a ball of it in the fridge, for healthy, high-protein snacking, for cooking, for adding to sandwiches and salads. It's kind of a mainstay. 
Here in Mazatlán, the weekly mercado orgánico has a vendor that makes and sells balls of fresh Oaxaca cheese (plain or with chipotle or garlic). It's lovely: soft and firm at the same time, with a delicate, almost milky flavor.
But you can find Oaxaca cheese worth buying in grocery stores too — you just have to read the labels and do your own taste tests till you find one that suits your fancy. Avoid any with too many ingredients; that list should be short and leche de vaca (cow's milk) should be the first one. 
Sometimes I've found that it can be too salty. Here's a tip: Pull or cut the ball apart into smaller pieces and let sit, refrigerated, in a bowl of water overnight. The excess salt will leach into the water, and your cheese will be more fresh-tasting. 
Queso Oaxaca (waa-haa-kah ) is a simple, unaged cheese, made by double-cooking and curdling milk and then stretching the cheese curds, resulting in the trademark stringiness.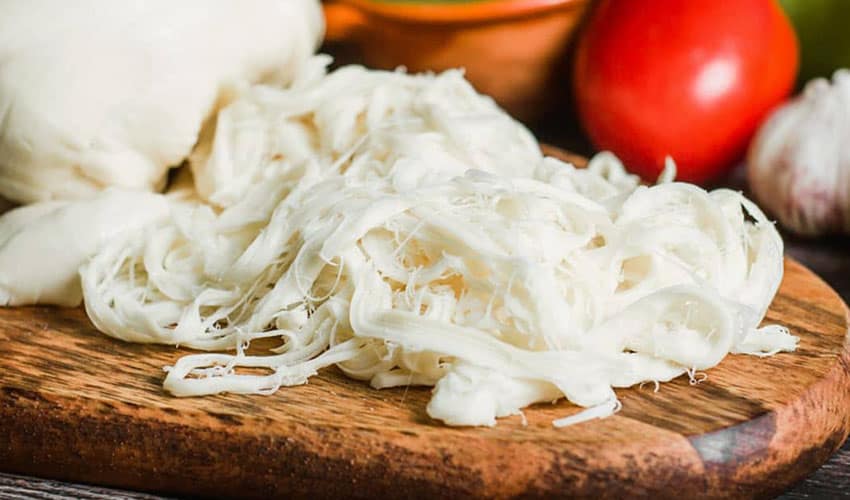 Should you want to make it at home, it's not difficult, albeit a little time-consuming and exacting. In the state of Oaxaca, where it originated, it's called quesillo (kay-see-yo), meaning "rope cheese."
It's the same process used to make mozzarella, and, yes, it's what commercial "string cheese" kind of is. I say "kind of" because there are so many added stabilizers, etc. that it bears little resemblance to its purer Mexican cousin.
What to use it for? Anything where you want melty, gooey cheese. It's a good substitute for mozzarella or Monterey Jack, and, of course, can be eaten for fun just like string cheese (except it tastes better!) Enchiladas, quesadillas, chiles rellenos, grilled cheese sandwiches, lasagna, pizza and other Italian dishes, nachos, migas, molletes — the list goes on and on.
Because Oaxaca cheese is a fresh cheese, you need to eat it quickly. Store in the refrigerator in a covered container of water. It should last seven to 10 days. If need be, you can also freeze it. Just put the unopened package in the freezer and thaw in refrigerator before using.
Choriqueso ("Hangover Helper")
½ lb. ground pork shoulder

2 tsp. red wine vinegar

¼ tsp. cinnamon

1 tsp. paprika

½ tsp. dried oregano

1/8 tsp. ground cumin

1/8 tsp. cayenne 

1 tsp. grated garlic

1 tsp. salt

1 Tbsp. vegetable oil

1½-2 cups grated Oaxaca cheese (or pulled into strings)

Tortilla chips for serving 
Preheat broiler to high. Using your hands, mix pork, vinegar, cinnamon, paprika, oregano, cumin, cayenne, garlic, and salt in medium bowl. Heat oil in 10-inch broiler-safe skillet over medium-high heat; add chorizo mixture and cook, stirring and breaking up the meat until no longer pink. Season to taste with salt. Remove from heat. Top with cheese.
Place under broiler until melted. Serve immediately with tortilla chips for scooping.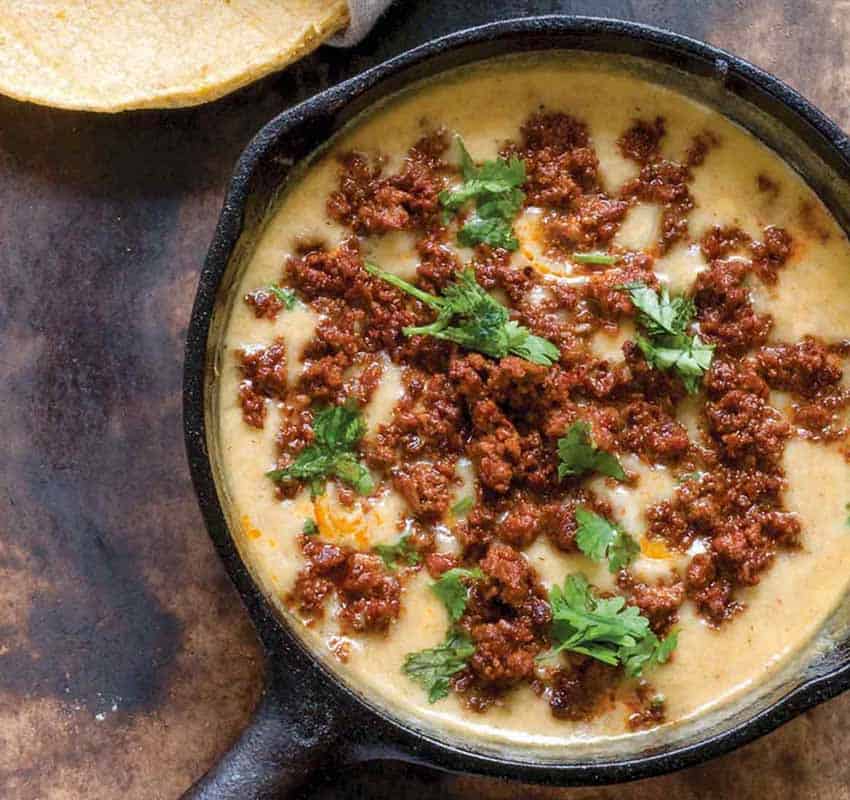 Carnitas Torta
1 loaf rustic country bread or ciabatta

1½ cups refried beans 

About 1½ kilos pork

carnitas

 

1/3 cup

salsa verde

12 oz. Oaxaca cheese, shredded or pulled into strings

1½ cups pickled red onions, drained well

2-3 jalapeño peppers, finely sliced
Use a bread knife to make a hollow "bread boat" by slicing off the top 1-1½ inches of the loaf. Then cut around perimeter of the interior of the bigger bottom piece without breaking through the bottom crust and use your fingers to pull out the excess bread from the inside.
Spread beans on bottom of the bread boat, followed by carnitas, salsa, cheese, onions and jalapeños. Close sandwich. 
Wrap sandwich tightly in aluminum foil. Place between two stiff cutting boards, and then place a heavy weight on top (about 40 pounds). Press down firmly to flatten sandwich evenly; let rest under the weight for at least 4 hours.
When ready to eat, adjust oven rack to center position and preheat oven to 375 F (177 C). Remove weights; slice sandwich through foil into four to six pieces with a bread knife. Unwrap and transfer to baking sheet, pressing the pieces back together to form a full sandwich shape. Bake in oven until hot and cheese has melted, about 15 minutes. Serve immediately.
Smoky Mushroom Quesadillas
2 Tbsp. olive oil  

8 oz. portobello mushrooms, sliced 

1 tsp. minced garlic 

2 green onions, chopped  

½ tsp. coarse salt  

½ tsp. smoked paprika 

 ¼ tsp. black pepper 

About 2 cups (8 oz.) shredded Oaxaca cheese

½ cup arugula  

½ cup chopped cilantro 

10 (6-inch) corn or flour tortillas

Salsa for serving
Heat oil in a large skillet over medium-high heat; add mushrooms. Cook 5 minutes, stirring. Add garlic and green onions; cook 3 minutes. Season with salt, pepper and paprika. Set aside. In a separate bowl, toss arugula and cilantro. 
Wipe out skillet or use a comal; warm over medium heat. Heat a tortilla, flip and layer cheese, mushroom mixture, greens and cheese again on half of one side. Fold tortilla over so melting cheese seals it shut. When tortilla is golden brown on the bottom, flip and cook the other side for another 30 seconds. Repeat with remaining tortillas and ingredients.  
Serve with salsa.
Cheesy Tomato-Bean Bake
¼ cup olive oil

3 garlic cloves, thinly sliced

3 Tbsp. tomato paste

3 cups cooked beans or

2 (15-ounce) cans beans (any kind)

½ cup boiling water

 Salt and pepper

About 1⅓ cups Oaxaca cheese, grated or pulled into strings
Heat oven to 475 F (245 C). In 10-inch ovenproof skillet, heat oil over medium-high. Quickly fry garlic until lightly golden, then stir in tomato paste (being careful of splattering). Stir and fry 30 seconds, reducing heat as needed to prevent garlic from burning. Stir in beans, water and generous pinches of salt and pepper. Sprinkle cheese evenly over top. Bake until cheese has melted and browned in spots, 5–10 minutes. Serve with crusty bread for dipping.
Janet Blaser is the author of the best-selling book, Why We Left: An Anthology of American Women Expats, featured on CNBC and MarketWatch. She has lived in Mexico since 2006. You can find her on Facebook.