Author: Archie Bland
Publish date: 2023-05-22 01:57:45
www.theguardian.com

Read all
Good morning. When Luiz Inácio Lula da Silva – Lula – was sworn in as president of Brazil on 1 January, one of his tentpole commitments was a promise to reduce the deforestation that was rampant under Jair Bolsonaro to zero by 2030.
That is a hugely ambitious policy. But with the Amazon teetering on the brink of an irreversible tipping point beyond from which it would not be able to regenerate itself – leaving the world without its most important carbon store – it is also a necessary one.
Five months in, advocates for the Amazon see hugely promising signs in the government's work so far – like a 68% drop in deforestation last month. But we will soon arrive at the peak burning season, where political signals must give way to concrete outcomes on the ground.
Today's newsletter, with the Guardian's global environment editor – and resident of the Amazonian town of Altamira – Jonathan Watts, is about the progress so far, and how much is left to do. Here are the headlines.
Five big stories
In depth: 'Forests must be worth more alive than dead'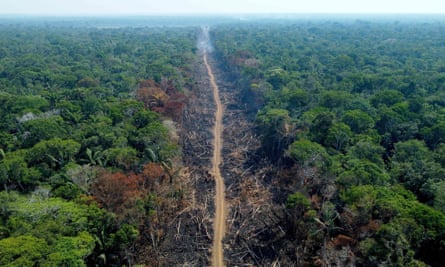 The figures tell their own story. During Jair Bolsonaro's four years in office, more than 45,000 square kilometres of the Amazon was lost, an increase of 55% on the previous four years. In 2021 alone, more than 1,000 trees were cut down every minute.
That devastation was the consequence of rapacious development policies that saw budgets for programmes protecting Indigenous people and the environment slashed. Meanwhile, loggers, cattle ranchers and miners who razed supposedly protected lands were allowed to operate with impunity. Last summer land clearances accelerated in anticipation of Bolsonaro's defeat, with an increase in fires being deliberately lit.
Jonathan Watts saw one of those fires burning not far from his home in Altamira territory (and wrote about it here). For all the ambition of Lula's pledge to reverse that trend, he "is not an environmentalist by instinct," Jonathan said. "He's a trade union guy he is naturally focused on jobs and poverty. But he knows how important this is."
His record from his first period in office in the 2000s is clear: policies instituted by his crucially important environment minister, Marina Silva, reduced the deforestation rate in the Amazon by more than 80%. Silva resigned in 2008 after a series of acrimonious battles over her policies – but Lula named her to the same post in December. "She is the real guiding force," Jonathan said. "As long as she is there, the government has credibility."
But it won't be easy. "As impressive as what they did last time is, they protected the Amazon at the expense of Brazil's other globally important biomes," Jonathan said – particularly the Cerrado tropical savanna in the east. "This time, they have said they will have zero deforestation anywhere. So it's a big step up."
---
Why is the rainforest being destroyed?
The biggest single cause of deforestation is cattle ranching: about 70% of illegally cleared land is used for ranching, and there are now 90 million cows in the Amazon, grazing an area about the size of France. Crop production is also a significant feature, above all soy. Gold mining, illegal logging of high-value tree species, and the development of roads and other infrastructure also play a part.
You can see the stakes of all this, and the ruthlessness of those who profit from deforestation, in outrages against defenders of the Amazon like the murders of Guardian journalist Dom Phillips and indigenous advocate Bruno Pereira. "That happened even when the people responsible for land grabbing and environmental crimes had an ally as president," Jonathan said. "Now they may feel more of a need to resort to those measures. But it may also be that the authorities feel more compelled to protect defenders, and punish those who are responsible."
A fundamental part of the problem, Jonathan notes, is global demand for the ensuing products – particularly beef. "We've had really positive news on that in the last few months, when the EU signed a new law banning imports of anything linked to deforestation. But the key is China – by far the biggest buyer of products from Brazil."
More generally, there are calls for rich countries to contribute more to the funds directed to create incentives for farmers and land-grabbers to stop destroying the Amazon. In this superb dispatch last December, Jonathan wrote that nothing is likely to shift without a change to a "nature positive" economy: "The goal must be for Brazil and other ecosystem-rich countries to receive more revenue from maintaining their biomes than from clearing them. Farmers need to become stewards. Forests must be worth more alive than dead."
---
Why is this so urgent and so hard?
The crisis in the Amazon is all the more acute because of scientists' fears that we are close to an irreversible change – the tipping point at which the rainforest has degraded so much that it can no longer regenerate itself, dries out, and turns into a savannah, with far less capacity for carbon storage.
In parts of the south and south-east of the rainforest, as Jonathan explains here, that has already been happening, and the forest is emitting more carbon than it absorbs. 17% of the entire rainforest has now been cleared; the best estimate of the tipping point is at 20 to 25%, which could happen within a few years.
But Lula's government must tackle the crisis with severe limitations on its ability to act. Because of Bolsonaro, "the state probably has half the capacity that it did during the last Lula administration," Jonathan said. "So initially, a lot of this is about sending signals that there are smart ways to do this nonetheless, and that the Brazilian state is back."
---
What has Lula achieved so far?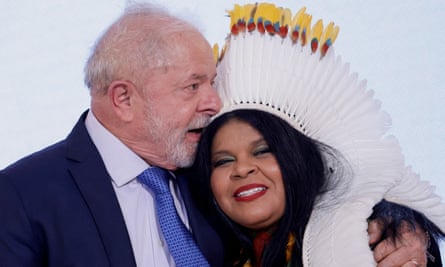 In his inauguration speech, Lula emphasised the role of the Indigenous people who have been custodians of the Amazon for thousands of years. Indigenous people, he said, "are guardians of our rivers and forests and a fundamental part of our greatness as a nation".
To that end, he appointed the country's first Indigenous affairs minister Sonia Guajajara (with Lula above), and appointed the first Indigenous woman to lead the federal Indigenous affairs agency, Funai. (Bolsonaro's pick, Marcelo Xavier da Silva, was a police officer with ties to agribusiness, and poisoned the agency's function so that instead of protecting Indigenous territories it became an engine of their seizure.)
Early legislative and practical measures include restoring the authority of the environmental protection agency, assigning new funds to prevent deforestation, and revoking Bolsonaro legislation that encouraged illegal mining. Lula also directed a major special forces operation to drive illegal miners out of the Yanomami territory, with 327 mining camps reported destroyed by the end of April – and reports like this one of reprisals against Indigenous people. (The Guardian's Tom Phillips wrote a remarkable embedded report on one of the units carrying out that work.) Last month, deforestation was down 68% on the same time last year.
Welcome though that is, the real peak of deforestation is always in the dry season from May to October, when illegal loggers can more easily access the forest. "That is when we will really understand how much progress is being made," Jonathan said.
---
What else needs to happen?
We are unlikely to see the mass expulsion of farmers and illegal land grabbers in the months ahead, Jonathan said. "I suspect there is not the capacity to do that."
But since Lula was last in office, technological tools – like satellite imagery revealing further illicit deforestation – have become much more advanced. "And a lot can be done through the banks not lending money if it's shown a farmer hasn't protected as much forest as they're supposed to, or penalties where it's happening with the threat of more to come. It's really about the signal that the government is watching."
Other priorities could be building up capacity for future work, and raising funds from international donors. But there will also be serious tests of Lula's commitment: a plan to turn a muddy route, BR-319, into an all-season road "that could open up a whole new part of the Amazon to deforestation", and the question of whether he will stick by the environmental regulator's decision last week to reject oil drilling at the mouth of the Amazon. That is viewed by some of his coalition as a threat to his promise to deliver growth to the poorest parts of Brazil.
"There is going to be a battle over these things, and they test his old school development instincts," Jonathan said. "If he backs Silva [the environment minister], we will know there is a very real change under way."
What else we've been reading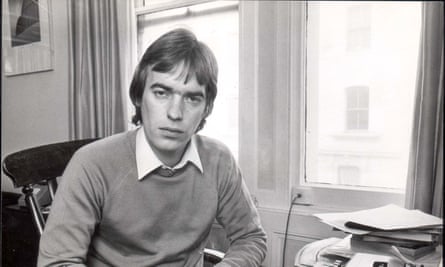 Sport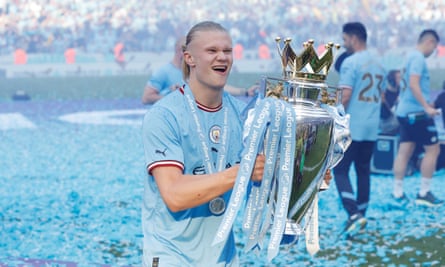 Premier League | Manchester City lifted the Premier League trophy after they completed a routine 1-0 victory over Chelsea thanks to Julian Alvarez' goal. See a photo essay featuring ten turning points in their title race with Arsenal, and read Jonathan Liew's reflections: "Already you get the sense that City are floating away from their current time and place… The present is already settled; now, it seems, City have set their sights on conquering the past and the future." Meanwhile, Brighton secured a European place with a 3-1 win against relegated Southampton, while Leeds took a step closer to relegation after losing 3-1 to West Ham.
Women's Super League | Chelsea are on the verge of retaining the WSL title after goals from Guro Reiten and Magdalena Eriksson secured a 2-0 win against Arsenal. Meanwhile, Manchester United won the derby against Manchester City 2-1 thanks to Lucia Garcia's last minute winner – but need Chelsea to drop points against bottom club Reading on the last day of the season to have a hope of winning the title.
Golf | Brooks Koepka became the first LIV golfer to win a major at the US PGA Championship, taking his fifth major title by two strokes from Viktor Hovland and Scottie Scheffler. The most endearing story of the tournament was that of club professional Michael Block, ranked outside the top 3,000 in the world, who secured a share of 15th with a hole-in-one at the par-three 15th.
The front pages
The Guardian leads with "Pressure on PM to launch inquiry into Braverman's speeding row". The Telegraph quotes allies of the home secretary who say the speeding row is an effort to discredit her, under the headline, "Braverman 'smears' fears over curbs on migrants". The Mirror calls on the PM to "Fast-track her out".
The Financial Times reports "China slaps ban on US chipmaker after G7 rebuke ramps up tensions". The Times says "NHS app to let patients book private healthcare". The Mail carries news of a new report that claims "Now drug driving overtakes drink driving".
Finally, the Sun has the latest on the fallout from Phillip Schofield leaving This Morning with "Phil: I'm completely broken".
Today in Focus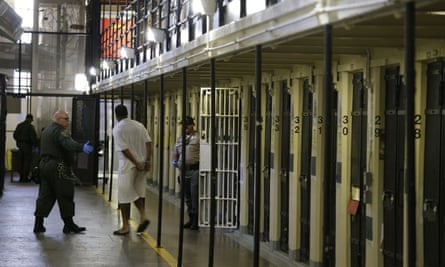 Why California is dismantling its death row
After decades locked alone in small cages in California's San Quentin prison, men sentenced to die for their crimes are being moved off death row. Sam Levin investigates
Cartoon of the day | Ben Jennings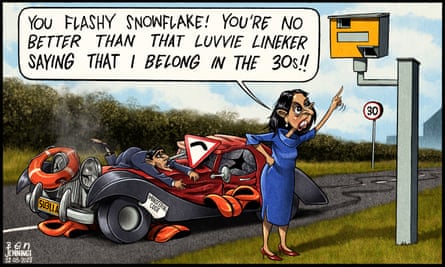 The Upside
A bit of good news to remind you that the world's not all bad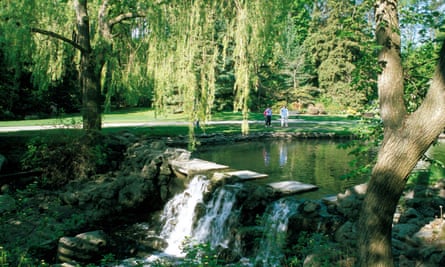 After decades of illness, including a cholera scare and bouts of malaria, Toronto's Don River succumbed to mounting neglect and was pronounced dead in 1969. A funeral procession of environmental activists wound through the city, with mourners gathering at the polluted banks of the river to pay their final respects.
After more than half a century, however, the river has roared back to life. Wildlife is gingerly returning to areas that were once the site of heavy industry. Its waters will soon become cleaner. And perhaps most unlikely of all: after decades of advocacy work from a small group of frustrated citizens, the city is spending billions to save a body of water which was long despised and feared.
A C$1bn investment will create wetlands, levees and a new route for the Don. Meanwhile, the city is spending C$3bn to build three tunnels that will route untreated sewage away from the river.
"There aren't a lot of hopeful signs in the wider world today. But it's hard not to want to hope for a better life for my children and future generations," said John Wilson, a key figure in citizen-led group Bring Back the Don. "And so you have to hold on, as hard as you can, to the positive things that you can see … This is one of them."
Sign up here for a weekly roundup of The Upside, sent to you every Sunday
Bored at work?
And finally, the Guardian's puzzles are here to keep you entertained throughout the day – with plenty more on the Guardian's Puzzles app for iOS and Android. Until tomorrow.