Author: MND Staff
Publish date: 2023-05-25 21:44:54
mexiconewsdaily.com

Read all
In June 2024, Mexicans will elect not only a new president, but nine new governors, 128 new senators and 500 new deputies to the national Congress, as well as many local positions (mayors, local congressional districts).
Candidates for president will be put forward by political parties registered with the National Electoral Institute (INE), and some others will join the race as independent candidates, who by the way, are a relatively new factor in elections: a 2014 electoral reform allowed candidates to run without party affiliation if they obtain signatures of support from at least 1% of registered voters in at least 17 federal entities.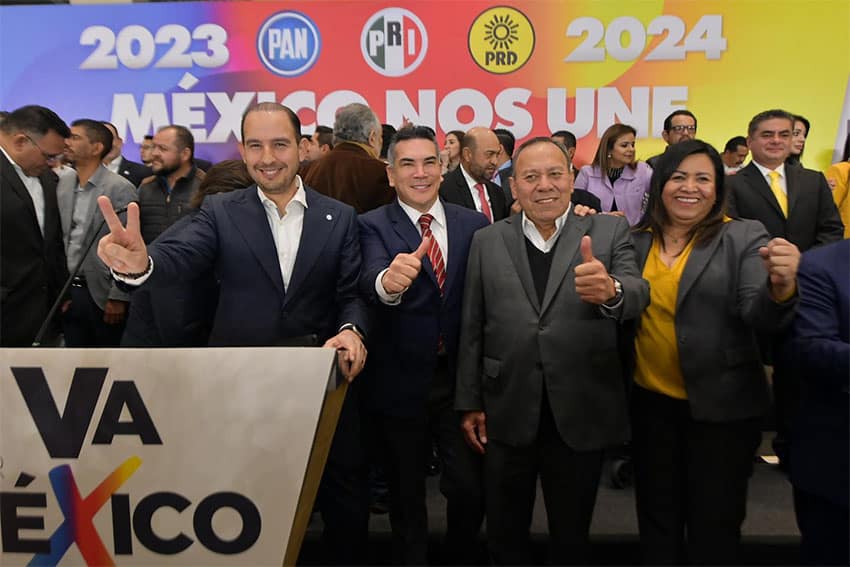 Three opposition parties (PAN, PRI, PRD) to the ruling Morena party have announced they will field a common candidate as a coalition (Va por México) in 2024. The politicians vying for the Morena candidacy include Claudia Sheinbaum, Marcelo Ebrard, Adán Augusto López and Ricardo Monreal.
Today's edition of Mexico in Numbers will focus on the basics of the country's multiparty political system and address the most common questions regarding parties and their representation nationwide.
How many political parties are there?
Mexico has seven national political parties recognized by the INE. Only the political parties registered with the INE can compete in federal elections. 
As the highest electoral authority in the country, the INE, an autonomous body, is responsible for organizing federal elections. It also helps states coordinate local elections and issues voter ID cards to Mexican citizens, which are also commonly used as a primary form of identification. 
Mexico's seven registered political parties are listed below:
PAN: Partido Acción Nacional (National Action Party) 

PRI: Partido Revolucionario Institucional (Institutional Revolutionary Party)

PRD: Partido de la Revolución Democrática (Democratic Revolutionary Party)

PT: Partido del Trabajo (Labor Party)

PVEM: Partido Verde Ecologista de México (Ecological Green Party of Mexico)

MC: Movimiento Ciudadano (Citizens Movement)

Morena: Movimiento Regeneración Nacional (National Regeneration Movement)
Morena has been the ruling party since the last presidential election in 2018.
The number of political parties does change, as some political parties disappear if they lose too many members, and new ones are created. In the last five years, five political parties have lost their registration for lack of compliance with the minimum number of registered members in an election.
How many affiliated voters are there in each party?
To keep their registration, political parties must maintain the minimum required number of registered members: 
3,000 in at least 20 federal entities (i.e. states) or 300 in at least 200 single-member electoral districts, and

At least 0.26% of the Federal Electoral Register used in the immediately preceding federal election (this was 233,945 voters in 2020)
The number of registered members per political party (by gender) in 2020 is shown below:
| | | | |
| --- | --- | --- | --- |
| Political Party | Total | Men | Women |
| PAN | 252,140 | 121,126 | 131,014 |
| PRI | 2,065,161 | 735,957 | 1,329,204 |
| PRD | 1,242,410 | 426,065 | 816,345 |
| PT | 448,492 | 171,573 | 276,919 |
| PVEM | 660,874 | 241,406 | 419,468 |
| MC | 381,735 | 154,569 | 227,166 |
| Morena | 466,931 | 219,581 | 247,350 |
How many governorships does each party hold?
In 2022, six states held gubernatorial elections. The results show that only five of the seven political parties in Mexico hold one or more governorships in the country. 
After the 2022 elections, Morena holds the greatest number of governorships in Mexico, with its members in the top post of 21 out of 32 federal entities. It is followed by the PAN with five states, the PRI with three states, MC with two states and the PVEM with one. Governor Cuauhtémoc Blanco of Morelos ran with the Social Encounter Party (PES), but since the party lost its registration after the 2018 elections, he is now representing Morena.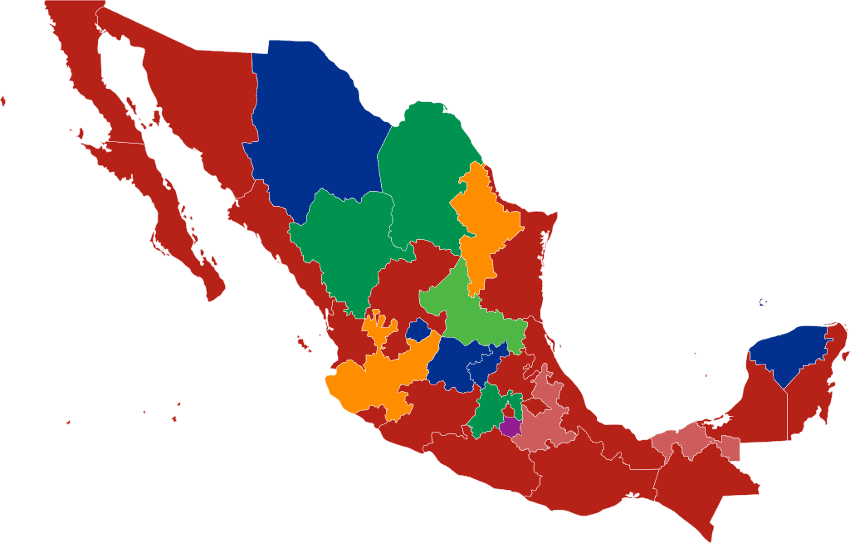 On June 4, voters in México state and Coahuila will choose governors. Both are governed by the PRI, which has ruled the two states without interruption since the first half of the 20th century.
How is the national legislature divided by party representation?
Mexico's Congress has an upper house (Senate) and lower house (Chamber of Deputies). Currently, control of the Senate is mostly divided among four political parties. Morena holds the majority of representation with 60 senators, followed by the PAN with 20, the PRI with 13 and MC with 12. 
The rest is divided among the PT (6), PVEM (6) and the PRD (3). Although the PES lost its registration in 2018, it still holds three seats in the Senate. Four seats are also held by the Grupo Parlamentario Plural (Plural Parliamentary Group, GPP), a voting bloc formed in 2021 by senators who were affiliated with parties when they were elected but became independent during their term. 
There are 500 seats in the Chamber of Deputies. Half of the chamber is controlled by Morena, which holds 252 seats. The ruling party is followed by the PAN with 79, the PRI with 49, the PT with 44, MC with 24, PES with 23, the PRD with 12 and PVEM with 11. 
The remaining six positions are held by members without party affiliation.
How many people voted for each candidate in the last presidential election in 2018?
The presidential election of 2018 saw candidates nominated by different coalitions, and the presidential race of 2024 points in the same direction. 
In the 2018 election, there were four presidential candidates, only one of whom was an independent. The remaining three were backed by alliances between parties.
Ricardo Anaya Cortés was the candidate of the Por México al Frente coalition, composed of the PAN, PRD and MC. More than 12 million people — 22.2% of all voters — voted for him. 
José Antonio Meade was the candidate of Todos Por México, a coalition comprising the PRI, Greens and Partido Nueva Alianza (New Alliance, PANAL), the latter of which lost its national registration after the election. Meade got 16.4% of votes, representing a total of 9.2 million votes. 
Current president Andrés Manuel López Obrador was the candidate of the PT, Morena and the PES coalition known as Juntos Haremos Historia. Thirty million Mexicans voted for him, representing 53.1% of the entire electorate. 
Finally, independent candidate Jaime Heliodoro Rodríguez Calderón, commonly known as "El Bronco," won 2.9 million votes, or 5.23% of votes cast.
According to INE, the 2018 elections were the largest in Mexican history due to the number of political offices up for to vote. More than 18,000 seats were up for election — including the presidency — and 63.4% of registered voters participated.
With reports from Forbes México