Author: Joseph Sorrentino
Publish date: 2023-05-23 21:55:08
mexiconewsdaily.com

Read all
Most people who hear chile chicuarote won't know what it refers to; a few may think it's the full title to the movie by Gael García Bernal.
But chile chicuarote is a small, spicy chile endemic to the Valley of Mexico and one that's virtually unknown outside of San Gregorio Atlapulco, a pueblo originario in the Xochimilco borough of Mexico City. 
Residents of that pueblo are so enamored with this chile, in fact, that they proudly call themselves chicuarotes.
Pueblos originarios like San Gregorio Atlapulco get the designation by the government for having maintained their indigenous traditions. In San Gregorio, that means yearly processions, pilgrimages and fiestas — lots of fiestas — most of them featuring Mexica (Aztec) dancers and concheros, traditional musicians. 
It also means making salsas with their beloved chile chicuarote.
"The Nahuatl name was chicualoni," said Javier Márquez Juárez, who has studied and written about San Gregorio's pre-Hispanic history. "Chi means chile and cualoni means 'good flavor' or 'agreeable spice.'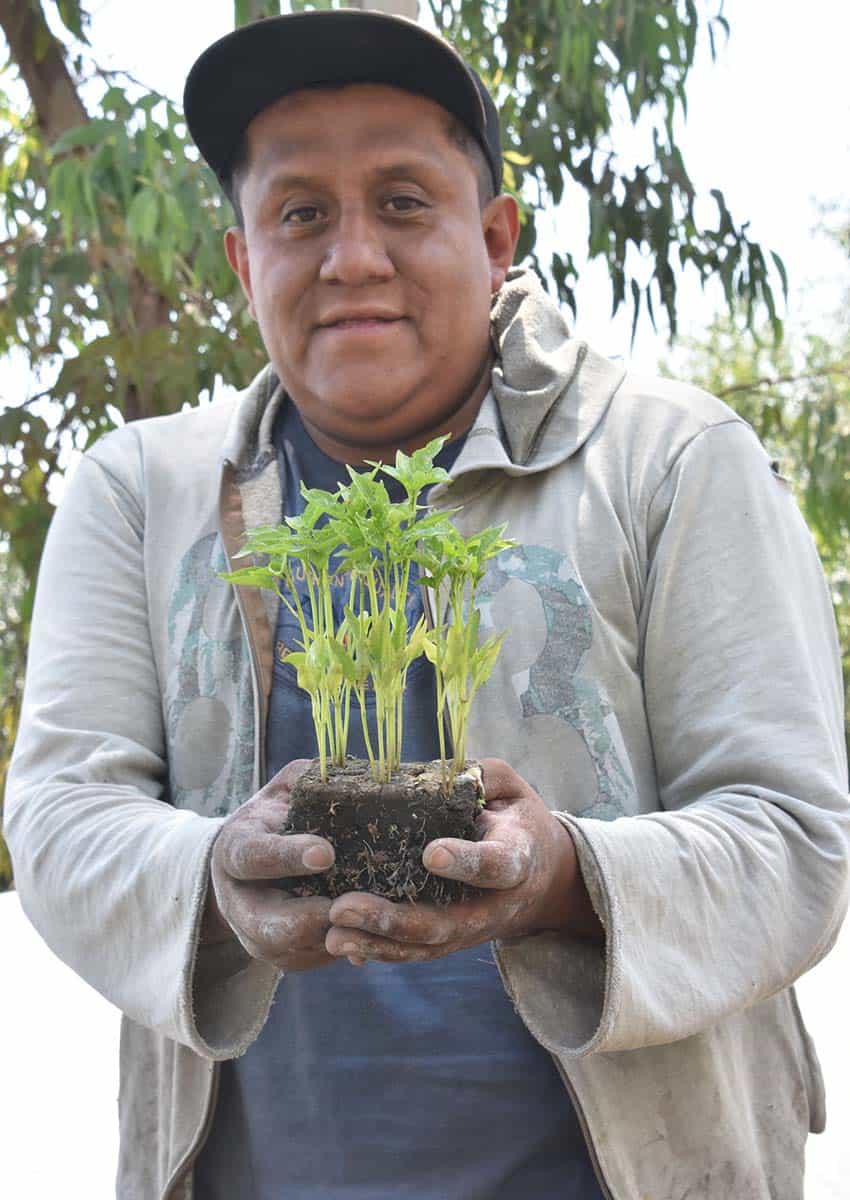 "The fresh chile is green, although when more mature, it turns red. The dried chile is also red and is called chilcostli … It is spicier than the green." 
However, he said the chile wasn't too picoso (spicy), and Erendira González, another chicuarote, described it as "sweet and spicy."  
Márquez told me that chile chicuarote have only ever been planted in the Valley of Mexico. "They were grown mostly in San Gregorio, Xochimilco, Milpa Alta and Tlahuac. Now, they're only planted in San Gregorio, where fewer than 10 people plant it." 
All 10 are chinamperos, the name given to people who work the ancient agricultural area in San Gregorio — known as the chinampería.
The chinampería consists of manmade islands — called chinampas — crisscrossed by canals carrying water to the land. There's evidence that chinampas were first built around 5,000 years ago. 
The ones in San Gregorio are probably 1,500 to 2,000 years old. San Gregorio is one of only three towns in which the chinampería is still actively farmed.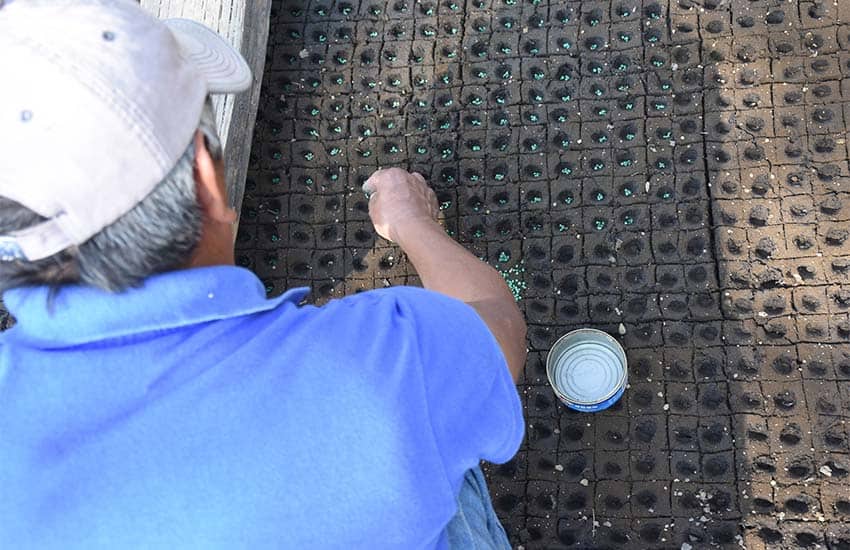 Ernesto García Zeferino is one of the 10 chinamperos who still plant the chile chicuarote. He grows it on chinampas that have belonged to his family for close to 150 years. 
"I am the fifth generation in my family to grow this chile," he said proudly. "My abuelo said it was their daily food. Because they were poor, they ate what they grew." 
He said that he's one of 40 grandchildren, and the only one to work in the chinampería. 
In March, García put several chile seeds into dozens of small mud squares called chapines. In May, the plants were big enough to be placed in the chinampa. I went with him as he headed to his land to do the plantings.
García carried a tray of chile plants to his chinampa, knelt on the ground, and dug a small hole. 
"It is important to put more than one plant in a hole," he said. "If there is only one, it will not produce many chiles. With more plants, there are more chiles."
He used his hand to measure the distance to the next hole — 1.5 hand widths, about 10 inches, is the right spacing, he says. More plants went into that hole. He continued this process until the end of a row, something that took about 40 minutes. 
When finished, he'll have four long rows of chile chicuarote planted. He estimates that he'll put about 1,000 chile plants into the ground. 
The chile is usually available fresh only in July and August, although the harvest can sometimes stretch into late September. Márquez said that it isn't popular outside of San Gregorio. 
"There is really no market for it. It is a local product. Chinamperos plant lettuce and other things because they can sell [that] anywhere."
Juan Serralde, another chinampero who grows the chile, said that peoples' tastes have changed.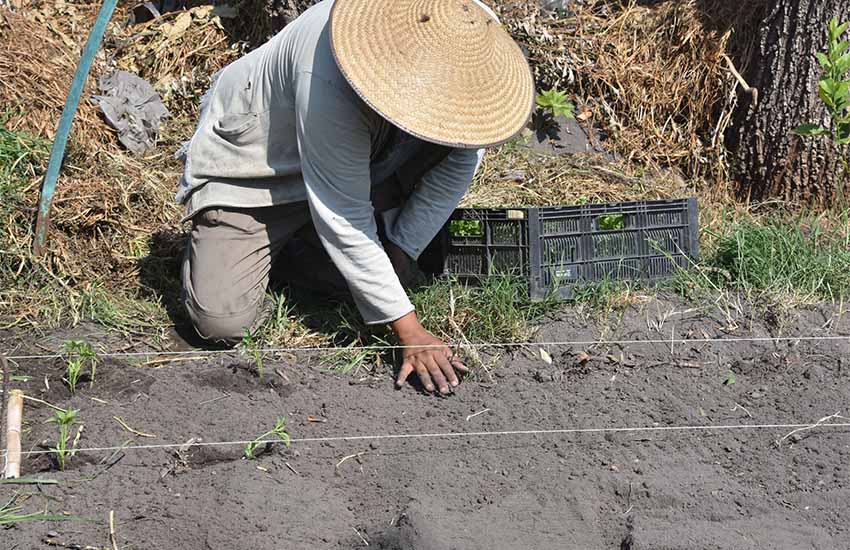 "Before, our ancestors ate a lot of chile chicuarote. Now there are other chiles available, like chile poblano, chile de arbol, jalapeños. Those are found everywhere in Mexico. Chile chicuarote is only grown here in San Gregorio. It is not as popular as other chiles because it is not considered modern." 
"People have changed their way of eating," he said. "They eat hamburgers." 
Chile chicuarote may not be popular, or even known, outside of San Gregorio, but it still has a big role here in the pueblo's cuisine. 
"It is important to save this chile because it is part of the traditional food here," said Márquez. "Also, it is part of the pueblo's identity. It is used in mich mole, chile atole, all of the green salsas."
As with virtually all traditional foods, every home in San Gregorio has a special recipe using chile chicuarote. 
Márquez insisted that all you need to make a delicious salsa was about half a kilo of tomatoes and a small handful of chopped fresh or dried chiles (remove the seeds for less heat). The recipe preferred by Gonzalez and her husband Ari Castro Galicia had more ingredients. 
While Márquez uses both fresh and dried chicuarotes, Gonzalez and Castro only use fresh ones. 
"First, heat the chiles on a comal [a sort of Mexican griddle used daily in Mexican homes)," said Gonzalez. "Then put them in a plastic bag for several minutes. Peel the skin, remove the seeds and tear up the chile. Chop the tomatoes, add onion, garlic, cilantro, lime and salt." 
Although people are happy to give you their recipe, no one can tell you exactly how much of each ingredient to use. When asked, Gonzalez said, "A su gusto [to your taste]." 
San Gregorio's chicuarote chile farmers are the subject of the short documentary, "Las Chicuas," which you can view for free on YouTube.
Once you adjust the recipe to your taste, Castro said,  "Put some in a cheese or chicharron taco." It also goes well on sopes.
So why did San Gregorio's residents become known as chicuarotes? There are several explanations that can be found online. One is that the chile is known to be hard and resilient, like the pueblo's residents. 
But, said Castro, "Nobody really knows why we are called chicuarotes. Chicuarote is synomous with 'terco,' which means 'stubborn.'"
When asked if people from San Gregorio were stubborn, he didn't hesitate. 
"Si," he admitted. "We are tercos."
Joseph Sorrentino, a writer, photographer and author of the book San Gregorio Atlapulco: Cosmvisiones and of Stinky Island Tales: Some Stories from an Italian-American Childhood, is a regular contributor to Mexico News Daily. More examples of his photographs and links to other articles may be found at www.sorrentinophotography.com He currently lives in Chipilo, Puebla.