Author: Andrew Wu
Publish date: 2023-03-18 07:21:04
www.theage.com.au

Read all
Melbourne's midfield magicians Christian Petracca and Clayton Oliver reprised an old trick to sink a familiar foe who should have known better.
After paying the ultimate price on grand final day two years ago, the Western Bulldogs were punished again on Saturday night as the Demons bolted away in the second half to open their season with an ominous 50-point win at the MCG.
The Dees' win was soured by the booking of livewire Kysaiah Pickett, who is facing a suspension after collecting star Bulldog Bailey Smith with a shirtfront in which he left the ground. Though Smith was not hurt by the bump, the grading for an intentional high hit with low impact would result in a one-match ban for Pickett.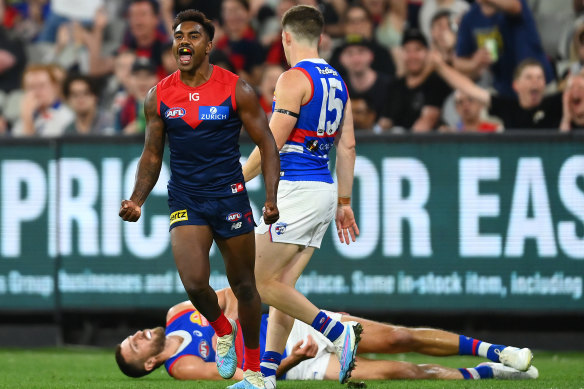 Pickett was among the best players on the field after playing a pivotal role with four goals and 19 possessions in close to a career-best performance. Notably, the Demons were without key players Steven May, Bayley Fritsch, Jack Viney and Christian Salem.
Petracca and Oliver answered the call when the Demons were under the pump in the second quarter and challenged in the third.
With the assistance of sublime tap work from Max Gawn, their capacity to break through the front of the stoppage in the centre square was instrumental to the Demons' match-winning burst of six consecutive goals either side of half-time.
When the Dogs narrowed the margin to 14 points midway in the third term, it was Petracca and Oliver who again combined to load the ball deep into attack, setting up a goal for Ben Brown.
The star duo's dominance in the middle presents a conundrum for the Demons, who want to spread the midfield load more evenly to avoid entering September banged up like last year but have a centre square one-two punch the envy of the competition.
It is no coincidence the Dogs' best period of the game, in the second term, came when Petracca and Oliver, who combined for nine of the Demons' 15 centre clearances, were not together.
Author: Andrew Wu
Publish date: 2023-03-18 07:21:04
www.theage.com.au

Read all