Author: Anne Hyland
Publish date: 2023-03-17 14:53:00
www.theage.com.au

Read all
The Ainsworth family name adorns art galleries, universities and hospitals across Sydney.
There is an Ainsworth wing at the Sydney Children's Hospital. An Ainsworth Family Gallery at Sydney Modern, the new arm of the Art Gallery of NSW, where the Ainsworths' have helped fund, part-fund or given almost 100 works, including those by celebrated artists such as Russell Drysdale, John Black, Simryn Gill and David Hockney.
There is an Ainsworth Building at UNSW, and another at the Western Sydney University. Meanwhile, Sydney University has The Ainsworth Interactive Collection of Medical Pathology that comprises 1600 preserved medical specimens, including a heart dating to 1895, a lung infected by the 1918 Spanish flu, and an 1888 flask of broth made and sealed by Louis Pasteur. Sydney University also has an Ainsworth Chair of Technology and Innovation, set up at the request of the Cerebral Palsy Alliance, with funding it received from the Ainsworths.
Near the Prince of Wales' hospital precinct there is a Margarete Ainsworth Building, after the family's money helped build the independent Neuroscience Research Australia centre.
Loading
The Ainsworths are one of the 20 wealthiest families in Australia, with an estimated fortune of some $5.7 billion, according to The Australian Financial Review Rich List.
Their patriarch, Len Ainsworth, turns 100 in July. He, his now ex-second wife Margarete, and some of his seven sons, have an impressive record of generosity across the city, having given at least $60 million away. In return, their name has been attached to prominent institutions as an enduring symbol of achievement, where future generations will remember the family's philanthropic legacy.
The origins of the Ainsworth's money, which came from poker machine manufacturing, may be forgotten over time. But not if some critics can help it. They are questioning the guidelines and ethics of the education, health and arts institutions, and whether they should be accepting the family's philanthropy at all.
"The issue here is that Mr Ainsworth's fortune comes from gambling, and precisely the manufacture of gambling machines, which are clearly and unequivocally the most harmful form of gambling in this country," says Charles Livingstone, head of Monash University's Gambling and Social Determinants Unit. "Whether it comes directly from Mr Ainsworth, or his children, is irrelevant. The money came from the proceeds of harming a significant number of people, among them, some of the most vulnerable in the country."
It's a view shared, not surprisingly, by one of the country's staunchest gambling reform campaigners, Tim Costello, who also chairs the Community Council for Australia, a peak body for the charity sector. He says such organisations shouldn't be taking money that has been derived from an industry that has caused social damage and misery. "There are ethical questions. None of those institutions would take it if the money had come from the manufacturing of tobacco or guns."
'Most charitable organisations, when they meet me, are grateful for support to achieve their wonderful, altruistic aims.'

Len Ainsworth, founder of Aristocrat and Ainsworth Gaming Technologies
Len Ainsworth is the father of the poker machine manufacturing industry in Australia. The industry has generated billions of dollars in revenue and, some argue, created hundreds of thousands of gambling addicts.
A study, published last month in the Journal of Behaviour Addictions, of 71,103 gambling cases in Australia, concluded that poker machines were responsible for 51-57 per cent of gambling addiction in the country, which have resulted in societal problems such as the indebtedness, crime, drug use, family breakdowns, domestic violence, homelessness and suicides.
The study's authors wrote: "Electronic Gaming Machines (poker machines) are responsible for the majority of gambling problems in the country. Regardless, calls to reduce availability, restrict their more addictive structural features, or implement other features that might interrupt excessive spending, all appear to have been ignored. Electronic Gaming Machine regulation should be the first priority for reducing gambling harm in Australia."
Poker machine gambling addiction has also become a campaign issue in the forthcoming NSW election, with Premier Dominic Perrottet committing to introducing a cashless gaming card for all the state's poker machines by 2028. The Opposition has committed to a trial.
The NSW Crime Commission called for reform last year, including a cashless gaming card, after claiming that $95 billion in cash flows through poker machines in pubs and clubs in NSW each year, making it the gambling capital of Australia. Those cash flows also included laundered money from criminal gangs.
---
Len Ainsworth created two poker machine manufacturers, Aristocrat and Ainsworth Gaming Technologies, which have been hugely successful here and globally. They have generated almost unimaginable wealth, so much so that Ainsworth is one of five Australians who have joined the Bill Gates-inspired Giving Pledge, to give away half his fortune. Asked how most of that fortune will be given away after he dies, Ainsworth told The Sydney Morning Herald: "Ask me when I'm 105."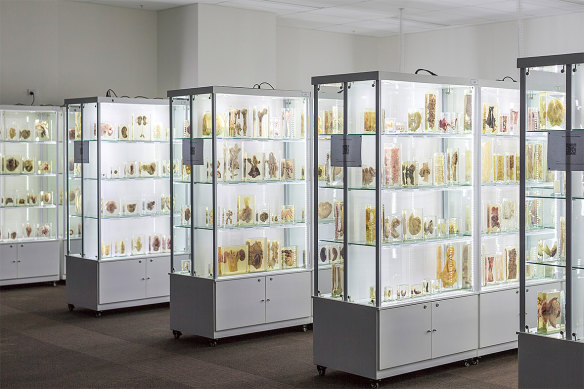 Even so, Ainsworth says his aim has been to make "a positive and lasting contribution to medical research and education". He says the institutions he and his family have given to have taken "a very different educated and considered view" from his critics. "Most charitable organisations when they meet me are grateful for support to achieve their wonderful, altruistic aims."
Sydney University, which has received millions from Ainsworth, has a Gambling Research and Treatment Clinic that has helped more than 550 problem gamblers, through its Brain and Mind Centre. The university says it has strict guidelines around its gift policy and procedures.
The UNSW offers a gambling and recovery support course and has done research into problem gambling. It received a donation of $10 million from Len Ainsworth to help construct a new building in its engineering and manufacturing faculty, now known as the Ainsworth Building. UNSW says it accepts philanthropic gifts in good faith, with the intention the donation will have a positive impact.
Western Sydney University received a $10 million donation for its building works from Ainsworth. Last month, the university's think tank, the Centre for Western Sydney, released an issues paper declaring that gambling is Western Sydney's silent epidemic. It noted that there was one poker machine for every 105 people in Western Sydney, compared with one in 113 people for the rest of Sydney.
Western Sydney University said in a statement the gift from Len Ainsworth was in alignment with its guidelines for donations and fundraising, and with its mission, goals and policies.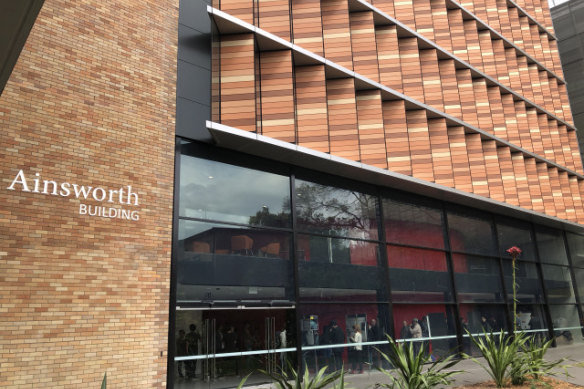 St Vincent's Private Hospital Sydney, which also referred to its rigorous philanthropic guidelines, received a $5 million donation from Ainsworth to contribute to its building works. The public arm of St Vincent's runs a statewide, government-funded Gambling Treatment Program.
"If you're a charity or organisation that's working with problem gamblers, and are trying to help people who have got gambling addiction problems, or just need welfare, taking money from the source of the problem, or part of the source of the problem, is counterproductive," says John McLeod, a senior research consultant at JBWere's Philanthropic Services and Family Advisory.
Len Ainsworth's oldest son, Geoff, has a foundation known as Oranges & Sardines, and says it's transparent with its recipients about its original source of income. Geoff, who declined to be interviewed, has not been involved or held shares in Aristocrat since the mid-90s.
It is up to the institutions to accept or decline donations from philanthropists and do the due diligence, says McLeod. He offers this advice to clients. "When we're advising for-purpose organisations about accepting donations, the basic thing we ask them to think about is by accepting that money, what are the implications for you in accepting it, and does that enhance or detract from your cause?"
Simon Longstaff, executive director of The Ethics Centre, says there is an ethical issue in accepting money that has been derived from the gambling industry. However, he says it's not a simple one, particularly if the individual, such as Len Ainsworth, has had a long relationship with certain charitable organisations, and hasn't just decided to varnish how he made his fortune with a veneer of do-goodery.
Loading
"It's possible that Mr Ainsworth has been doing this quietly for years and years and years, and there's a whole network of relationships, which are based on personal interaction, and that he's developed a really sincere affinity for the causes that he supports," says Longstaff. "So, it's not about trying to wash his hands of any criticism."
Even so, Len Ainsworth and his family now find themselves giving back in a world where there is growing criticism that such philanthropy will never match what poker machines have taken.
The Morning Edition newsletter is our guide to the day's most important and interesting stories, analysis and insights. Sign up here.
Author: Anne Hyland
Publish date: 2023-03-17 14:53:00
www.theage.com.au

Read all