Author: Tom Phillips in Boa Vista
Publish date: 2023-03-17 05:15:36
www.theguardian.com

Read all
The severely malnourished Yanomami baby girl is about eight months old but weighs just 2.75kg (6lbs) – less than half the average for her age. A catheter runs into her tiny right foot, delivering a blood transfusion doctors hope will save her life.
"This is a really difficult moment for us," says Francinete Rodrigues, the director of the Santo Antônio children's hospital in Boa Vista, an institution on the frontline of an Indigenous health catastrophe Brazil's president calls an attempted genocide.
The Amazon hospital is no stranger to crisis. For almost a decade its staff have been dealing with the fallout from the humanitarian collapse in neighbouring Venezuela, with thousands of migrants and refugees flocking here in search of treatment unavailable in their crumbling homeland.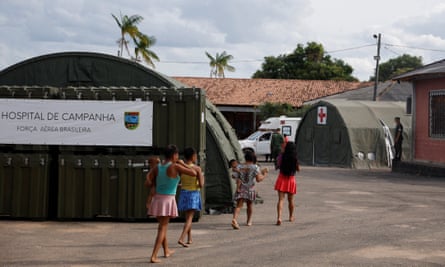 More recently, a second calamity has hit the hospital's casualty department, with a growing number of seriously ill Yanomami children being admitted because of the dire conditions in the Portugal-sized Indigenous territory where they live.
Forty-seven Indigenous children died at Santo Antônio last year, most before their first birthday. In 2021, there were 56 deaths. In 2020, 31. Activists say a total of at least 570 Yanomami children have died preventable deaths since 2018 thanks to a toxic cocktail of government neglect, local corruption and an onslaught from illegal mining gangs.
"When Indigenous children are brought to the hospital it's nearly always for more than one reason: malnutrition, dehydration, pneumonia, malaria – and sometimes they come with two, three or four of these ailments," Rodrigues said during a tour of the hospital's wing for Indigenous patients, where Yanomami families and their ailing offspring lie in hammocks designed to make the rainforest-dwellers feel at home.
On the day the Guardian visited, 56 Yanomami children were receiving treatment, two in intensive care. Two days earlier a seven-month-old Yanomami baby had died of pneumonia in that unit. Doctors hoped the skeletal girl being given a blood transfusion – a member of a Yanomami subgroup called the Sanumá – would avoid the same fate.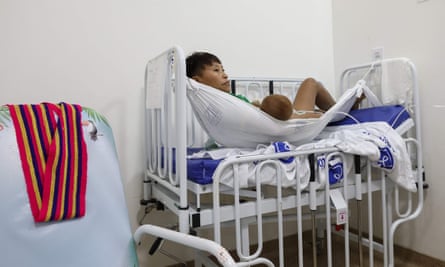 The crisis – which President Luiz Inácio Lula da Silva declared a public health emergency in late January – is the third major tragedy to strike the Yanomami in the past 50 years.
Large numbers of outsiders first began invading their mountainous domain in the early 1970s after the military dictatorship bulldozed a road through the region, bringing environmental destruction and epidemics that wiped out entire villages.
In the 1980s, as the price of gold soared, tens of thousands of miners – known by the Yanomami as urihi wapo pë ("earth eaters") – came to wreak further havoc. "These fierce men appeared in the forest suddenly … frenetically searching for an evil thing that we had never heard about and whose name they repeated unceasingly: gold," the shaman and activist Davi Kopenawa wrote in his autobiography, The Falling Sky.
Fiona Watson, a Survival International activist who has worked with the Yanomami for more than 30 years, said violence and disease killed an estimated 20% of the Indigenous group between 1987 and 1993. A global outcry forced government action. Tens of thousands of miners were evicted by security forces and the protected Yanomami Indigenous territory was created in 1992.
"We never thought that what happened in the 80s would repeat itself. We thought that we were free," said Dário Kopenawa, the vice-president of the Yanomami association Hutukara and Davi Kopenawa's son. "But we weren't."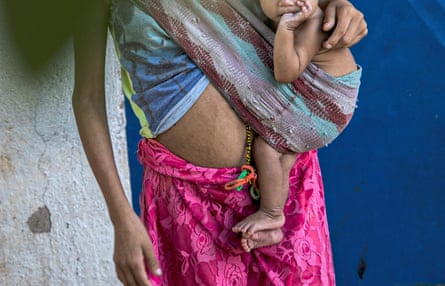 Since 2016, rising gold and cassiterite (a tin ore) prices have provoked another deadly invasion. The influx of illegal miners accelerated after the far-right president Jair Bolsonaro took power in 2019 and torpedoed the Indigenous and environmental protection agencies preventing such criminals from running wild.
Experts say the presence of more than 20,000 miners aggravated a longstanding health crisis in the far-flung enclave, where Yanomami hunter-gatherers and horticulturalists have lived for thousands of years.
Heavily armed miners commandeered dirt runways used by health teams and frightened off the few medical professionals caring for Yanomami health. They also scared off game and poisoned fish with mercury, and caused an explosion of malaria, with devastating consequences for malnourished Yanomami children. A local corruption racket compounded the problem by depriving thousands of Yanomami children of essential medicines such as the anti-worm treatment Albendazole.
"[Bolsonaro] has blood on his hands," Watson said of the ex-president's failure to act.
"To get to the extent where Yanomami children are dying from starvation in one of the most bio-diverse … rainforests anywhere – where under normal circumstances they can live completely self-sufficiently and live really well – is horrendous and utterly criminal."
Alisson Marugal, a federal prosecutor helping investigate the causes and culprits behind the alleged genocide, recalled witnessing "awful scenes of almost war-like destruction" while visiting Yanomami villages overrun by illegal miners in 2021 and 2022. Last April, Marugal's team publicly denounced the "humanitarian tragedy" playing out.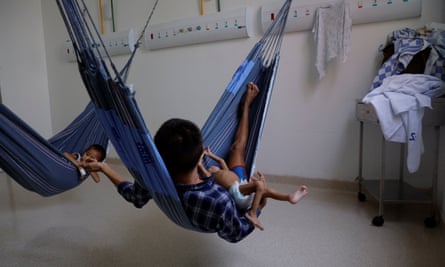 Dário Kopenawa also sought to raise the alarm and said he had tried to take "the voice of the Yanomami" to Bolsonaro's vice-president, Gen Hamilton Mourão. But those pleas for help – as well as a succession of reports in the domestic and international media – fell on deaf ears until Bolsonaro, who denies responsibility, lost last October's election.
"They knew what was going on and they did nothing to stop it. In fact, if anything they just carried on letting people go in there and carrying out these criminal acts," Watson said of Bolsonaro's administration and the military.
"I still find it very hard to believe that they wittingly allowed this to go on, seeing those pictures of starving children. [It's] unbelievable."
The situation changed after Lula's 1 January inauguration. The leftist politician flew to Boa Vista to denounce an Indigenous tragedy foretold. "More than a humanitarian crisis, what I saw … was a genocide," Lula said before ordering a major crackdown to expel the miners.
Those efforts began in early February and are being led by the environmental agency, Ibama, whose officials say they are determined to prevail.
Givanildo dos Santos Lima, a field operations chief responsible for Ibama's Yanomami operation, said Lula's environment minister, Marina Silva, had given his team carte blanche to get the job done.
Lima vowed to stay "for as long as it takes" but warned that fighting such audacious and well-funded criminal groups was dangerous and would take at least a year.
"They are fearless and they are ready for anything. It's a kamikaze situation. You're not just dealing with ordinary environmental criminals. These are people who are ready to do anything in the name of really big profits," Lima said, adding that the full scale of the environmental devastation remained unclear.
Watson suspected the human impact was similarly uncertain: "We don't know the worst of it. There will be areas nobody is getting to … so all the figures and everything we are seeing is underreported."
As Ibama troops battled to reclaim Yanomami lands, and health teams work to save Yanomami lives, the emaciated baby girl battled to stay alive. One week after the Guardian's visit she remained in hospital, struggling to gain weight. No discharge date has been set.
"He turned his back and he left the Yanomami to die," Dário Kopenawa said of Bolsonaro. "He allowed the rivers and animals to die [and] he allowed the children to die."