Author: Jonathan Howcroft (now) and Geoff Lemon (later)
Publish date: 2023-03-19 05:55:02
www.theguardian.com

Read more
Key events
WICKET! Shami c Carey b Abbott 0 (India 103-9)
Two in two for Abbott! Length outside off to Shami who pokes a flat-footed edge through to the keeper. India's batting has been abject.
WICKET! Kuldeep c Head b Abbott 4 (India 103-8)
Another one goes. Abbott didn't send down the greatest short ball, but it was quick enough for Kuldeep to mistime a pull straight to midwicket.
24th over: India 101-7 (Axar 15, Kuldeep 4) Ellis into his fifth over, and he gives up just one run to this cautious partnership.
23rd over: India 100-7 (Axar 14, Kuldeep 4) Zampa's two-over spell didn't do a lot so Smith returns to the seam of Abbott. Three more singles eventuate as India continue to consolidate and Australia curse the unavailability of Pat Cummins and Josh Hazlewood.
22nd over: India 97-7 (Axar 12, Kuldeep 3) Three singles from the latest Ellis over as we move into something of a holding pattern as India look to bat out time.
21st over: India 94-7 (Axar 10, Kuldeep 2) Zampa has seven fielders inside the circle as Australia pile the pressure on India's lower order. The squeeze keeps the batters to just a single apiece.
20th over: India 92-7 (Axar 9, Kuldeep 1) Kuldeep Yadav continues the run of lefties from both ends, and he's off the mark early. He'll need to improve on his ODI average of 12, and highest score of 19, if India are going to post a challenging total.
WICKET! Jadeja c Carey b Ellis 16 (India 91-7)
Ellis has another! Just a touch shorter, but it skids on nicely, and Jadeja – who has not looked in good nick – tries to glide a delicate cut but can only feather an edge through to the keeper. Australia into the bowlers.
19th over: India 90-6 (Jadeja 16, Axar 8) Time for spin. Starc makes way for Adam Zampa after just one over of his second spell and the leggie settles into his work from over the wicket to the two lefties. He induces a leading edge from Jadeja, but for the third time this innings it doesn't go towards a fielder. Otherwise there's not a lot to report either in the air or off the pitch.
18th over: India 85-6 (Jadeja 13, Axar 7) Ellis is coming around the wicket now with two left-handers at the crease, and he gives a hearty shout for LBW against Jadeja that is sensibly not reviewed, with an inside-edge saving the batter. The change of angle disrupts the bowler's rhythm with three leg-side wides in an over as long as Rapunzel's hair, but not so magical.
17th over: India 82-6 (Jadeja 12, Axar 7) Excellent attacking captaincy from Steve Smith, recalling Starc and going for the jugular. Unfortunately, the best laid plans of mice and men and all that, the bowler doesn't deliver. There are singles aplenty, a wide, and a half-volley slapped through the off-side to give Axar a handy confidence boost.
"Good morning Jonathan," season's greetings Colum Fordham. "Starc's fiery spell has put his team in the driving seat but Jadeja, and Axar, could be thorns in Australia's side if they manage to regroup. Was about to write Jadeja and Kohli but that straight delivery from Ellis has put paid to that. Just when Virat was looking his old imperious self." Indeed, Australia know all about the batting talent at the crease from the recent Test series. But this is a very different – almost Australian pitch – not the dusty hard-spinning minefields we saw with the red ball.
16th over: India 73-6 (Jadeja 11, Axar 1) Excellent over from Ellis, testing the stumps on a full length, making India's batters work every ball, even despite overstepping fractionally and conceding a free-hit no-ball.
WICKET! Kohli LBW Ellis 31 (India 71-6)
Time for the skiddy right-arm pace of Nathan Ellis, and he reels in the big fish with his second ball! BOSH! Full, straight, angled in from over the crease, and Kohli plays around it to be trapped plumb in front. So plumb he doesn't even review. Massive moment in this match. You can't hear the partisan crowd through the TV (nor can you hear the fans in the stand – boom, tish).
15th over: India 70-5 (Kohli 31, Jadeja 10) Green troubles Kohli with a bouncer that climbs on the Indian much more than he expected, but there aren't enough fielders on the leg-side to profit. Jadeja does not look comfortable with the extra bounce in this pitch, but he is battling through, for now.
14th over: India 67-5 (Kohli 30, Jadeja 8) Abbott continues after drinks, and after Kohli jogs to the non-striker's end Jadeja is pinned repeatedly on the crease by the heavy back-of-a-length bowling. The player of the match from Friday is eight from 18 and has already ridden his luck on two occasions.
13th over: India 65-5 (Kohli 29, Jadeja 8) Starc finally has a breather, and Green returns, hitting that heavy ball length to right-hander and left, conceding just one run.
12th over: India 64-5 (Kohli 28, Jadeja 8) Kohli hasn't seen much of the strike during this top-order collapse, but he shows his eye is still in with a delicate late glance down to third for four. Jadeja is not so comfortable, and he gets another life when Abbott squares him up, only to see the healthy outside edge fly a metre or so out of reach of Superman Smith in the slips.
11th over: India 54-5 (Kohli 23, Jadeja 4) Starc afforded a sixth over as Australia look to ram home their ascendancy – and it almost works! Jadeja gets a loopy leading edge to a length delivery that floats over cover. He was aiming for midwicket. Australia then have a long think about a review for a catch down the leg side, but only Carey seemed convinced. Starc rounds out the set with a vicious delivery that kicks off the pitch and beat the defensive push. 4-31 from this potentially match-winning spell.
10th over: India 51-5 (Kohli 22, Jadeja 2) Lucky that India bat preposterously deep.
WICKET! Hardik c Smith b Abbott 1 (India 49-5)
CARNAGE! Steve Smith with one of the all time great slip catches. Abbott hits his hard length again, Hardik holds his bat out to dry and Smith flies to his right at second slip like a dolphin gambolling in the ocean, clutching the ball at the farthest point of his reach. Outstanding fielding.
9th over: India 49-4 (Kohli 22, Hardik 1) Rahul reviewed his LBW, by the way, but like Split Enz, all the third umpire saw was red. India's haul of reviews has been halved.
WICKET! KL Rahul LBW Starc 9 (India 48-4)
Almost another commentator's curse with Kohli slashing without control outside his off stump to the first ball of Starc's fifth over, but the thick edge lands safely behind square. Not that the bowler was in a huff for long. Three deliveries later he has KL Rahul LBW! Classic Starc, line and length, seaming back into the right hander, after two that angled away. Quality fast bowling. Starc has four. Australia are cock-a-hoop.
8th over: India 47-3 (Kohli 21, Rahul 9) The first bowling change of the day sees Sean Abbott replacing Cameron Green. Tidy start from the right-arm seamer, hitting the deck hard, just back of a length. He doesn't trouble Kohli though who moves into the 20s with ominous ease.
7th over: India 42-3 (Kohli 18, Rahul 7) KL Rahul is off the mark with a leg glance, a shot perilously close to the diving Carey as he fell too far over to the off side at the point of contact. A couple of runs through the off side off the back foot are much more conventional as he resumes a proactive, hard-running partnership with Kohli.
6th over: India 34-3 (Kohli 17, Rahul 0) Green has settled into his work and is providing an excellent foil to the destructive Starc. Just five runs, and eight dot-balls from his past two overs.
5th over: India 32-3 (Kohli 15, Rahul 0) KL Rahul keeps out the hat-trick ball, but that's still a double-wicket maiden for Starc. The big quick has already justified his skipper's decision to bowl first.
WICKET! Suryakumar LBW Starc 0 (India 32-3)
Make that three! SKY is gone first ball! That is a beauty from Starc, thundering into the crease, landing the ball on a perfect line and length, finding a hint of movement into the right hander and beating the bat. That looked very out in real time, and after a mid-pitch conflab Kohli agrees and his junior partner does not review. Australia are rampant.
WICKET! Rohit c Smith b Starc (India 32-2)
Starc has two! Another gift from India with Rohit slashing at a wide length delivery with flat feet, thrashing an edge through to Smith at second slip who does superbly to react to the initial blow then hold on as the ball threatened to wriggle free. Without really doing much Australia are off to a hot start.
4th over: India 32-1 (Rohit 13, Kohli 15) Three singles, three dots, one play-and-miss, no extras. The first regulation over of the match. Green bowling 140+ kph with the new ball.
3rd over: India 29-1 (Rohit 11, Kohli 14) More timing from Kohli – he has come to play! The checked drive through the covers off Green is upgraded into a classical off drive off Starc. All timing. The bowler responds by dragging his length back, extracting a touch of bounce, and Kohli's limp waft makes it look a better delivery than it was. There was nothing the Indian star needed to do to make the next legal delivery look dangerous (after another wild off-side wide). Starc found the perfect length, a hint of wobble, and beat the outside edge and the top of off stump by inches. But again the follow-up is poor, leaking onto the pads and gifting Kohli another boundary.
2nd over: India 19-1 (Rohit 10, Kohli 6) Cameron Green shares the new ball, and he starts with a lovely full outswinger that shapes nicely through the air. The rest of the over isn't much chop though, Rohit making it consecutive leg-stump half-volley boundaries through square-leg, while Kohli demonstrates his timing with a checked drive for four through the covers.
On the TV tight shot, with the bright straw coloured deck and vivid green outfield, you could easily be forgiven for thinking you were in Australia. It's only when the camera pans out that you realise you're in India. Oh, and the noise is deafening.
1st over: India 8-1 (Rohit 5, Kohli 1) Not a great over of international cricket, but one that Australia will be very happy with, even with it ending with Rohit clipping a leg-stump half-volley away for four.
WICKET! Gill c Labuschagne b Starc 0 (India 3-1)
Starc begins with a massive wide that tracks nearer the second of two slips than India's skipper. Rohit then gets off strike easily with a gentle guide down to third with the angle of the left-armer bowling across him from over the wicket. Another wild wide, this time in the vague direction of Gill. Not sure Starc is at the races yet. Lol. Next delivery he has a wicket. Of course he does. Length outside off – nothing delivery really – and Gill wafts without moving his feet and sends a thick edge straight to point.
Mitchell Starc has the ball. Rohit Sharma is on strike. Let's cricket!
The two sides are out in the middle. The surface looks flat and straw coloured. The outfield lush and emerald. India are in vivid blue with orange accents. Australia canary yellow with dashes of zinc. The umpires are in magenta. It's a beautiful scene.
Australia backing pace, India backing spin. It's like UFC 1 when nobody knew which of the martial artists would prevail. Until the Brazilian jiu-jitsu bloke rocked up and mess of everyone.
Visakhapatnam is on India's east coast where there has been rain around in recent days, but the skies have cleared just in time.
Australia have won the toss and will field
This venue is normally full of runs so Steve Smith is hoping to exploit any juice in the surface following the rain of recent days. Makes sense. Glenn Maxwell pulled sore after his first international outing for a while, hence Ellis's inclusion.
Rohit would also have bowled first but is still confident there will be turn later on for his attack featuring three spinners.
Rohit Sharma returns to captain the side, so Ishan Kishan makes way, while the spin of Axar Patel is preferred to the grunt of Shardul Thakur.
India: Rohit Sharma (c), Shubman Gill, Virat Kohli, Suryakumar Yadav, KL Rahul (wk), Hardik Pandya, Ravindra Jadeja, Axar Patel, Kuldeep Yadav, Mohammed Siraj, Mohammed Shami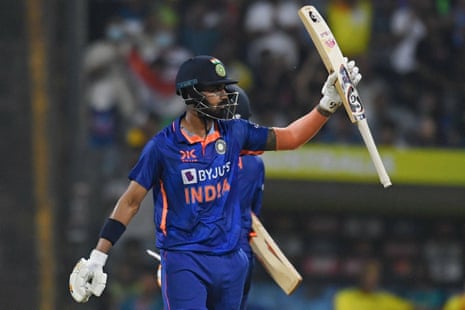 Alex Carey returns behind the stumps, displacing Josh Inglis, while Nathan Ellis comes in for Glenn Maxwell. Still no David Warner.
Australia: Travis Head, Mitchell Marsh, Steven Smith (c), Marnus Labuschagne, Alex Carey (wk), Cameron Green, Marcus Stoinis, Sean Abbott, Mitchell Starc, Nathan Ellis, Adam Zampa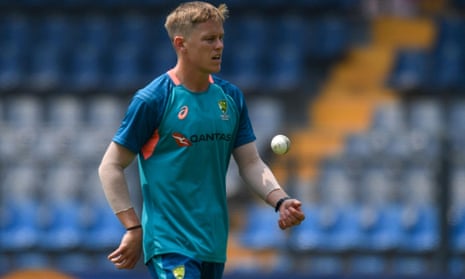 Here's Geoff's series preview, if, unlike the ICC you need context to your cricket.
The company line is that this will be useful preparation for the 50-over World Cup in India later this year. That might mean something if Australia did not already have a three-match date in India in September for exactly that purpose. The later series has long been in the calendar, the current one was shoehorned in a couple months ago when it became clear that a few unexploited days could be manufactured between the Tests and the new season of the Indian Premier League. This was also around the time that Cricket Australia cited ethical concerns while cancelling a planned series against Afghanistan due in a similar late-March window.
Preamble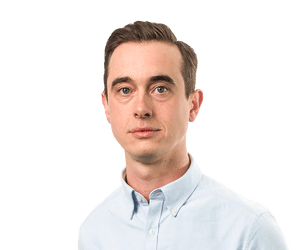 Jonathan Howcroft
Hello everybody and welcome to the second ODI of the cricket-for-cricket's sake series between India and Australia. Weather permitting, we'll be underway in Visakhapatnam at 1.30pm local time (7pm AEDT).
Smash cut to Geoff Lemon's introduction from the first ODI on Friday:
If you want another indication of how meaningful this series is, no Australian media outlet is covering it. None. All of us who did the Test series headed for the exits afterwards. Even the cricket.com.au contingent from the in-house Cricket Australia site. They went to the Caribbean and Bangladesh on the team plane during the pandemic for white-ball tours, but not this. Cricbuzz and Cricinfo will have their Australian correspondents at this first match in Mumbai, but only because they had other things to take care of in the same city. Nobody will be travelling to the second and third matches.

Why? Because this series was added only a couple of months ago and serves no purpose aside from filling screen time. English players were scathing about the one-dayers they played right after the T20 World Cup last November, and half their reserve players preferred to play the Pakistan Super League T20s than show up in Bangladesh for England matches over the past couple of weeks. We're at an interesting stage in the life cycle of bilateral contests.
Friday's series opener was far from a classic with bowlers from both sides dominating before KL Rahul and Ravindra Jadeja steered India home by five wickets.
Let's see what we have in store today.
As all involved satisfy their contractual obligations, feel free to send me an email, or fly a tweet to @JPHowcroft.
Author: Jonathan Howcroft (now) and Geoff Lemon (later)
Publish date: 2023-03-19 05:55:02
www.theguardian.com

Read all