Author: Roy Ward
Publish date: 2023-05-21 00:10:54
www.theage.com.au

Read all
AFL 2023 round 10 LIVE updates: Hawks ride seven-goal first term to big lead over hapless Eagles ahead of Magpies and Blues at MCG
We're sorry, this feature is currently unavailable. We're working to restore it. Please try again later.
Loading
Koschitzke snaps second goal
Koschitzke has finished another flowing Hawks move check-siding a kick for goal after a chain of handballs pushed the ball into attack.
The Eagles have no answer for them.
Hawks 62, Eagles 18 with seven mins to go in Q2.
Butler goals, Jones injured
Sam Butler has soccered home a goal for the Hawks following yet another clearance from Will Day who has been a menace so far.
Things are going from bad to worse for the Eagles with Jamaine Jones being treated for a lower leg injury, it looks like he has injured his left ankle but that has yet to be confirmed.
Sub Greg Clark is warming up, losing Jones would be a big blow for the Eagles.
Hawks 56, Eagles 18 with 10 mins go to in Q2.
Mackenzie adds to score for Hawks
Small forward Cam Mackenzie has come up with a running goal for the Hawks which was aided by some diving sheppards from his teammates who distracted their Eagles' counterparts enough to allow the ball to go through the goals.
The Hawks are doing what they like in this match.
Hawks 50, Eagles 18 with 15 mins to go in Q2.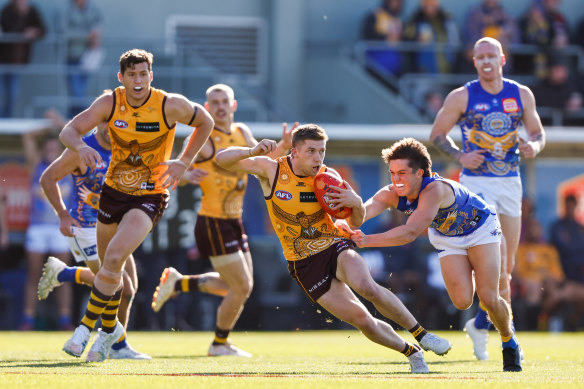 Allen gives Eagles a glimmer of hope
Oscar Allen continues to battle for his limited opportunities in the Eagles' forward like but he has come up with a contested mark and kicked a goal.
Hawks 44, Eagles 18 with 16 mins to go in Q2.
QT: Hawthorn 7.1 (43) to West Coast 2.0 (12)
The Hawks have turned on their highest-scoring quarter of the season and, more than likely, already ended this game as a contest taking a 31-point lead into quarter time.
The Hawks' young guns have been superb, as has been their supply to their forwards who have all had the chance to knock in goals.
The Eagles look well off the pace and down on confidence, as you might expect from a club who is regularly faced with barely enough fit players to fill team selection.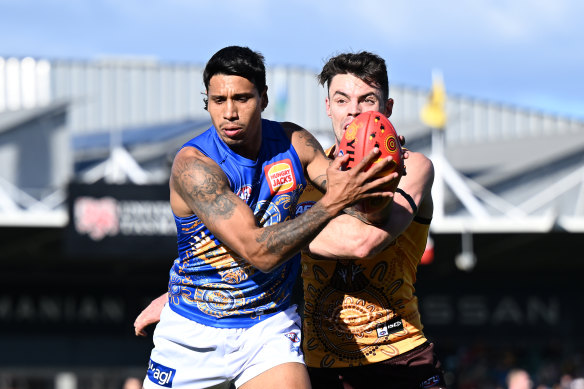 Jacob Koschitzke has had a frustrating start to 2023 but he has his first goal of the season after only playing three games so far this campaign.
This is the Hawks' highest scoring quarter of the year.
Make that two-straight goals from first-year Hawk Josh Weddle who was the recipient of a rushed kick from the Eagles which he intercepted and booted through the big sticks.
The Hawks are well up for this game, the Eagles again look well off the pace.
Hawks 30, Eagles 12 with four mins to go in Q1.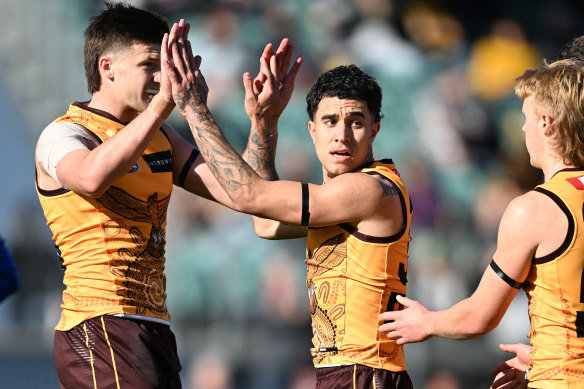 The Hawks have won an off-the-ball free kick in the goal-square after one of their forwards were felled by an Eagles defender.
Josh Weddle was able to jog to the goal-square and convert from point-blank range.
Hawks 24, Eagles 12 with seven mins to go in Q1.
Dom Sheed has drawn a free kick after a high tackle from the Hawks and converted his kick for goal.
The Eagles certainly needed that major.
Hawks 18, Eagles 12 with eight mins to go in Q1.
The calls of "Breust, Breust" are ringing out around UTAS Stadium as Luke Breust kicked his first goal of the day and gave his Hawks a two-goal lead.
The 32-year-old continues to produce up forward and the Eagles can't afford to let him get loose.
Hawks 18, Eagles 6 with nine mins to go in Q1.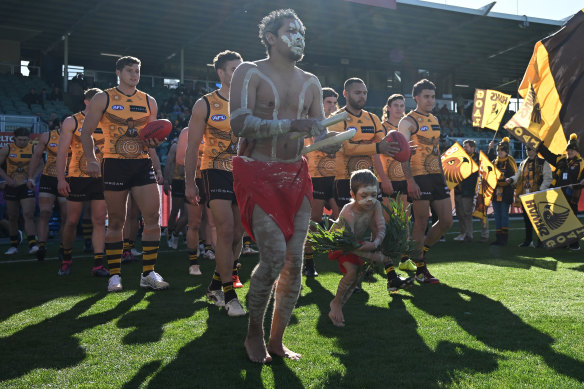 Author: Roy Ward
Publish date: 2023-05-21 00:10:54
www.theage.com.au

Read all