Author: Marnie Vinall
Publish date: 2023-03-19 01:07:33
www.theage.com.au

Read all
Essendon fan favourite Anthony McDonald-Tipungwuti will make his AFL comeback as the sub in today's clash against Hawthorn after a season out of the big time.
"Tippa" retired because of personal circumstances in May last year, after 153 goals in 126 games for the Bombers.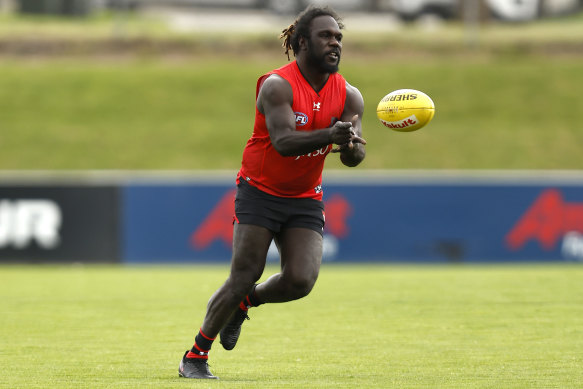 He was then coaxed back to Essendon, as new coach Brad Scott and detailed in The Age.
Scott acknowledged there were problems at the club, which became apparent when he attempted to lure Conor McKenna back to the club. He was more lucky with McDonald-Tipungwuti.
Loading
"We worked really hard to get Anthony McDonald-Tipungwuti back because the thought of 'Walla' making a comeback to AFL footy but not wanting to play for Essendon … one of the first meetings I had with Conor McKenna, when I was appointed, and Conor wanting to come back from Ireland to play AFL footy at any other club other than Essendon. Basically … we've got a problem here."
Scott said the McKenna conversations had been helpful in clarifying issues the club faced.
"It became clear really early on, I mean we weren't really in the conversation… He was actively considering coming back to Essendon, which wasn't where it started in October. So I was also able to learn a lot, some of his concerns … the club was really keen to get Paddy Ryder back [as Indigenous player development officer]. Paddy's a good person, he'll do a great job.
"We want these players to want to come back to Essendon. To rebuild all of those things first, before we go forward."
If Essendon activate the sub, fans will no doubt be interested to see if McDonald-Tipungwuti still has that forward pressure and spark he was known for.
Author: Marnie Vinall
Publish date: 2023-03-19 01:07:33
www.theage.com.au

Read all