Author: Martin Boulton
Publish date: 2023-05-21 17:25:18
www.theage.com.au

Read all
American rock band Foo Fighters introduced new drummer Josh Freese and unveiled songs from their next album with a global live-streamed event on Monday morning.
Freese, 50, has played with Nine Inch Nails, Guns N' Roses, A Perfect Circle, the Offspring, Weezer, and the Vandals in a career spanning 35 years. Originally from Orlando, Florida, Freese is also a highly regarded, prolific session drummer and has recorded with many high-profile artists, including Sting, Lana Del Rey and Bruce Springsteen.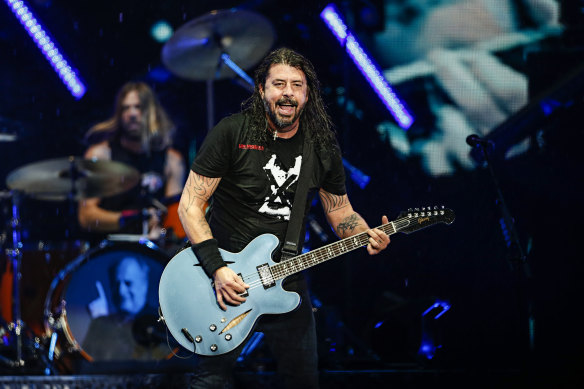 The free streaming event began at 5am AEST and was the first time Foo Fighters, fronted by Dave Grohl, have performed publicly since the death of drummer Taylor Hawkins.
Streamed live from the band's Studio 606 in Los Angeles, the performance featured songs from new album But Here We Are, due for release on June 2.
Hawkins, 50, died in March last year while on tour in South America. His death came three weeks after the band performed a massive stadium show in Geelong.
Monday morning's live performance, called Preparing Music For Concerts, on streaming service Veeps, also included behind-the-scenes footage and was the group's first time back on stage together since the loss of Hawkins, who joined Foo Fighters in 1997.
"It works for me," Grohl said, after Foo Fighters opened with All My Life. New song Rescued was followed by No Son Of Mine from 2021 album Medicine At Midnight, which was Hawkins' last studio album with the band. Under You and Nothing At All were among other new songs played in today's hour-long jam session, along with fan favourite Monkey Wrench.
The live-stream event began with footage of the band's crew setting up equipment, followed by Red Hot Chili Peppers drummer Chad Smith, Tommy Lee and Tool's Danny Carey all briefly popping into the studio. After several minutes, the camera turned to Freese, sitting behind his drum kit.
Author: Martin Boulton
Publish date: 2023-05-21 17:25:18
www.theage.com.au

Read all