Author:
Publish date: 2023-05-22 06:47:00
en.mercopress.com

Read all
Falklands remembers the anniversary of Landing Day in San Carlos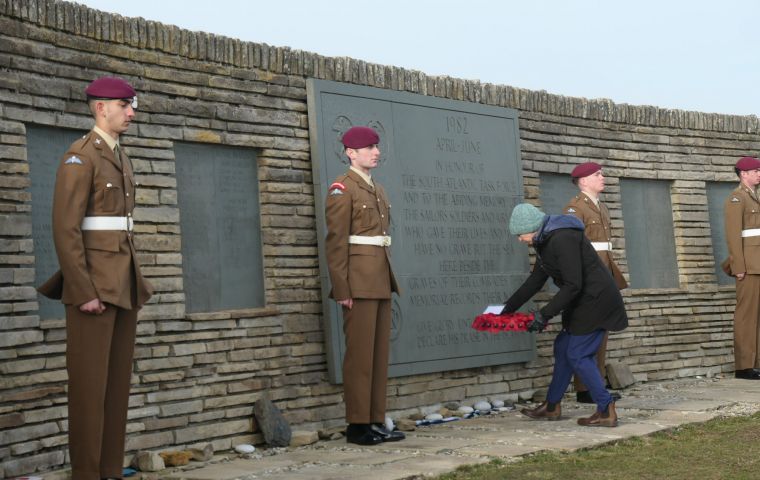 On 21 May 1982, British troops from the Task Force landed in San Carlos waters to begin the last chapter of the complete recovery and Liberation of the Falkland Islands.
Falklands governor, Alison Blake CMG joined members of the Falklands community and from the British Forces South Atlantic Islands, BFSAI, at San Carlos in the Blue Beach Cemetery to remember those who lost their lives.
On this day in 1982, British troops landed in San Carlos waters.

The Governor joined members of the #Falklands community and @BFSouthAtlantic at San Carlos for a service to remember those who lost their lives.

HE the Governor paid her respects with a wreath-laying.#LandingDay pic.twitter.com/Oykak5H81w


— Government House (@GHFalklands) May 21, 2023
Governor Alison paid her respect by laying a wreath at the cemetery.
On 21 May 1982, 4,000 British troops landed almost unopposed at San Carlos. The Argentine Air Force stepped up its attacks on the naval Task Force, sinking HMS Ardent, but also losing eleven aircraft on what was to be known as Bomb Alley.
The Blue Beach Military Cemetery at San Carlos is a British war cemetery in the Falkland Islands holding the remains of 14 of the 255 British casualties killed during the Falklands War in 1982, and one other killed in early 1984.