Author: John Brewin
Publish date: 2023-03-19 14:27:31
www.theguardian.com

Read more
Key events
Sergio Perez wins the Saudi Arabian Grand Prix!
50/50 They go for the fastest lap, him and Verstappen tries to steal it, meaning he will lead the championship. Perez takes the chequered flag, and Verstappen takes the fastest lap and the championship lead. Alonso takes third, and a podium place, penalty pending. Russell and Hamilton, the Mercedes, are followed in by Sainz and Leclerc from the Ferraris.
49/50 There's a possibility Alonso's penalty could be doubled to 10 points. That would be cruel.
48/50 Some talk that Alonso has a five-second penalty. Nobody seems to know why. Perhaps when his pit took place as he served out his five second penalty. He's still well clear of Russell and will retain his podium position. The battle between the Mercedes never happened, did it?
47/50 Perez is the king of street circuits, as a winner last year in Monaco and Singapore. It was at the restart that he took this race.
46/50 Verstappen is still worrying, even if his second place is all but secure. Not bad considering he came from way back in 15th.
45/50 Perez is enjoying himself. This has been an Arabian breeze for him. The last few laps will see him and Verstappen try and land the fastest lap. Actual racing, what are the chances?
44/50 Perez has the fastest lap and if he retains that then he will be the championship lead over Verstappen, who is going to fall short of the 16/21 races he had targeted. He'll have to settle over 15/20. Tough old world, Maxy.
43/50 Verstappen asks if he can push. He is given permission.
42/50 The action is at the back of the field, at this point. Perez doesn't like being asked to slow down. He wants the fastest lap to complete the perfect weekend. Mika Hakkinen is pictured in the stands. The pack needs a Finnish flyer in the old style.
41/50 Perez is reassured by his team on the Red Bull brake pedal problem. "Just wear and tear," apparently, There must be worries something goes bump in the last few laps. George Russell is also complaining.
Anne Williams emails in: "I remember when Lewis made his way from the back of the pack to the front everyone was swooning over him calling him a genius. Now the commentary has changed to " it's too easy for the Red Bulls"."
Fair point, well made. It really does help to have a flying machine.
40/50 Perez, aside from the start, has had a serene old time, once Alonso was passed. He's a high-class driver, and quick, too.
39/50 Perez has the fastest lap now, and Verstappen is easing off, and still worried. Just when the plan seemed to be coming together, there's gremlins.
38/50 Verstappen is not happy. He's probably not easy to deal with when he's not happy. The car is perhaps not easy to drive. He's worried.
37/50 Verstappen is heard to complain of a whistling noise at high speed. His team reassures him. He's feeling a vibration from the brakes. Same issue that dropped him down the grid yesterday?
36/50 Russell continues to keep Hamilton at bay. It's almost as if the last ten laps are being held on for.
35/50 It's all most calm, and all too easy for Red Bull. This may be the story of the season.
34/50 Verstappen dropping Perez's lead down to five seconds but it still looks imperious.
33/50 Leclerc is not happy with his car. It's not just the Mercs trailing in the wake of Red Bull.
32/50 Albon, to his credit, stayed out of trouble, and there was no need for a safety car.
31/50 Verstappen and Hamilton in similar positions, chasing down their slower cars, and second driver. In between is an Alonso sandwich. Ferrari are behind them. The Red Bulls are lapping at one second a lap faster.
30/50 Verstappen one place off achieving the very possible.
29/50 Perez has the whip hand and is driving his way to victory if he can keep his teammate at bay. It may all come down to safety cars and pits.
28/50 Russell is told to let Hamilton in but then tells his team Alonso has a penalty. No so, say his team but he remains ahead of Hammo for the moment. "Ah, ****," says Russell, knowing he must drive hard. Could be frosty at Mercedes, though would that make much of a change?
27/50 Hamilton has DRS in his chase of Russell, his Mercedes teammate. They are racing, and Hamilton's is the quicker car. Perez remains five seconds ahead.
26/50 Alex Albon calls in to his Williams team. "Oh my god, brake failure." He still ploughs on, and misses the pits, and he slows down, in the manner of VW Polo with the choke out.
25/50 Alonso offers no resistance, and Verstappen flies up the track after Perez. Hamilton on the medium tyres looks the main threat to the top three. The gap between Perez and Verstappen is 5.5 seconds or thereabouts. The defending champion is setting fastest laps.
24/50 Verstappen has overtaken Russell and now he's after Alonso. A Red Bull 1/2 is soon to happen.
23/50 Verstappen is flying after Russell, and it may not be long that the Englishman's resistance holds up. Perez up front is way ahead of Alonso.
22/50 Hamilton is up to fifth, enjoying the extra grip of his tyres and flying past Sainz.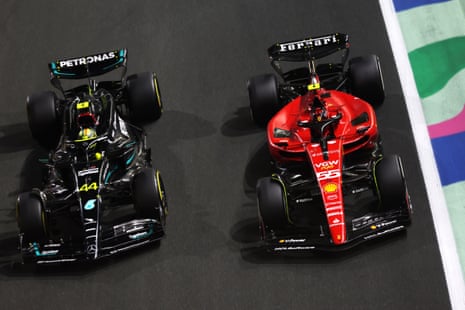 21/50 The safety card goes off, and Perez leads out the field, and this time he burns off Alonso. Verstappen has the fastest lap now, and Hamilton is the only drover on medium tyres.
20/50 Stroll pulling up did a solid for his colleague Fernando Alonso in the Aston. That was surely inadvertent, as Stroll's car was smoking in the formation lap. Another celeb spot: Patrice Evra, these days not as famous as Will Smith.
19/50 Alonso pits, takes his penalty and stays ahead of Russell for second. Now, can he try and win the race? That relies, probably, on Verstappen suffering misfortune.
18/50 Safety car deployed as Stroll draws to a halt, he had started dropping back. The fire extinguishers are on his brakes as a few cars pile to the pits.
17/50 Leclerc pits and so Verstappen is in fourth but still to pit. Leclerc comes out in eighth and Aston Martin's decision to pit Stroll, formerly in fourth, hasn't worked out. He's dropping back….and there's a yellow flag.
16/50 Sainz pits, and that puts Verstappen into fifth, behind Leclerc. Sainz comes in at ninth, with Stroll behind him in 10th. Good double-bluff pitting from the Ferrari team.
15/50 George Russell remains the mystery man, ticking along in third. Hamilton is in eighth, setting his fastest lap but still way off Perez's's time.
Author: John Brewin
Publish date: 2023-03-19 14:27:31
www.theguardian.com

Read all