Author: Rob Harris
Publish date: 2023-05-23 08:01:29
www.theage.com.au

Read all
London: Rolf Harris, the disgraced Australian entertainer, has died from cancer at his home in Britain at the age of 93.
A convicted paedophile, who found stardom as a singer, painter and television presenter before he was convicted of 12 historic indecent assaults between 1968 and 1986, had worldwide hits with songs including Tie Me Kangaroo Down, Sport and Two Little Boys.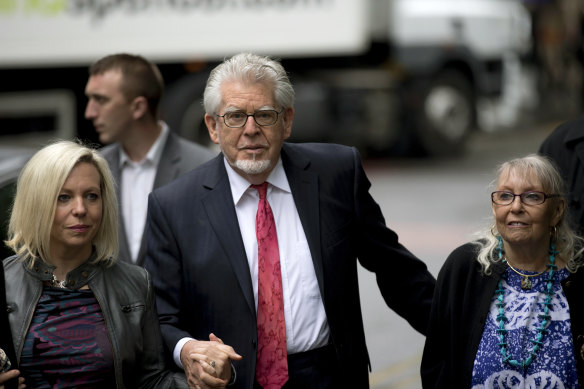 He hosted television shows in Australia and Britain for more 50 years, painted the late Queen's 80th birthday portrait and was appointed CBE, MBE and OBE. Following his convictions, he was stripped of many of his honours.
A registrar at Maidenhead Town Hall confirmed to the PA news agency. An ambulance had been reported outside his house in recent weeks.
It was revealed in October that Harris, who had become a recluse since being released from prison in 2017, was "gravely ill" with cancer and receiving around-the-clock care.
He died at his home in Maidenhead, Berkshire, alongside his wife of 64 years, Alwen Hughes, 91, who has Alzheimer's disease and had been wheelchair-bound for some years.
Harris was jailed for five years and nine months in June 2014 after he was found guilty of 12 indecent assaults at London's Southwark Crown Court. These included one on an eight-year-old autograph hunter, two on girls in their early teens, and a catalogue of abuse against his daughter's friend over 16 years.
During the trial one victim said the abuse had destroyed her "childhood innocence", while another said the assaults made her feel "dirty, grubby and disgusting". Others described how they had struggled to move on, with one saying the abuse had "haunted her".
In 2017, a jury found that he was not guilty of indecently assaulting a young autograph hunter when she visited him at a radio station in Portsmouth with her mother at the end of the 1970s; not guilty of groping a blind and disabled woman at Moorfields Eye Hospital in London in 1977; and not guilty of sexually assaulting a woman in her forties after the filming of a TV show in 2004.
Author: Rob Harris
Publish date: 2023-05-23 08:01:29
www.theage.com.au

Read all